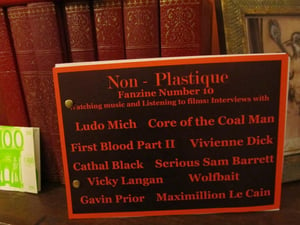 €

4.50
This issue is a collection of interviews with film makers about music: how it influences them and their work and interviews with muscians about films they like and how it inspires the music they make. The result was a lot of over lapping themes, such as restrictions in the maiking of film and music and how they compare and also the solo and collective process in approaching each medium.
Lots of grat referances for films to watch and directors and bands to check out, covering everything from the French new wave to action films to folk music to noise music.
Interviews with
Ludo Mich, Wolfbait, Cathal Black, Vivienne Dick, Serious Sam Barrett, Core of the Coalman, First Blood Part II, Maximillian Le Cain, Gavin Prior and Vicky langan.